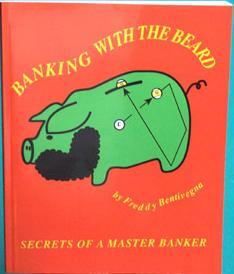 Banking with the Beard by: Freddy 'the Beard' Bentivegna
Regular price $29.95 Sale
Banking with the Beard, by Freddy Bentivegna, is an instructional work of art. Increase your game from the Knowledge within this book. It's easily read, even for the novice.
 
 Traditionally, top after hours players were very tight lipped about divulging any 'how to' secrets. The hustler's credo has always been never show your true speed, let alone give up any trade secrets that might come back to beat you! That's one of the things that is unique about this book, because it comes from the genuine article. A veteran of countless action matches, from the 'practice table' at Johnston City to Chicago's legendary Bensinger's poolroom, Freddy came up through the school of hard knocks, against many of the best bankers of all time.
This is top quality instruction from a rare source: a top after-hours player, and he doesn't hold back in sharing his hard-earned and valuable knowledge. Along with that, Freddy is one of the most entertaining and articulate legends of pool, with plenty of real life experience to both enliven and legitimize the advice he shares.