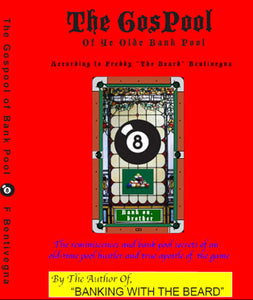 The Gospool of Bank Pool by: Freddy 'the Beard' Bentivegna
Regular price $29.95 Sale
This is the second book by "The Beard", and not only is it instructional, but is packed with stories, and photos as well.
(all copies autographed)
The GosPool continues the "Beard's" instruction for banking with more than 100 new pages of bank shot information. The GosPool also entertains with fascinating tales and anecdotes of hustlers on the road. Included are interesting stories about Minnesota Fats, Harold Worst, Bugs Rucker, Eddie "the Knoxville Bear" Taylor, CornBread Red, and many other top players Freddy knew and competed against. If you want to learn more banks and you like pool stories, this book is for you. There are many pictures of legendary hustlers along with Freddy's critique of their action.
All copies autographed